Weight Loss Surgeon Perth
Single Anastomosis Stomach–Ileal Bypass with Sleeve Gastrectomy (SASI-S)
SASI-S (Single Anastomosis Stomach–Ileal Bypass with Sleeve Gastrectomy) is a modified and safer version of SADI-S (Single Anastomosis Duodenal–Ileal Bypass with Sleeve Gastrectomy). SASI-S combines the benefits of sleeve gastrectomy and intestinal bypass.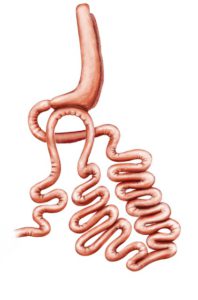 Sleeve gastrectomy removes 75% of the stomach resulting in a reduced capacity to eat and a reduced level of ghrelin, the hormone which causes hunger. Intestinal bypass involves joining the bottom part of the stomach (antrum) to the lower part of the small bowel (ileum).
This results in food bypassing part of the small intestine which causes a reduction in the absorption of fats, sugar and calories that are consumed. The amount of small bowel bypassed can be varied depending on the desired weight loss.
According to studies, the SASI-S procedure is able to provide greater weight loss than either a standard sleeve gastrectomy or gastric bypass procedure. SASI-S is safer than SADI-S due to fewer staple lines and only one join, so less risk of an internal hernia. SASI-S has fewer nutritional deficiencies such as iron as the duodenum is not excluded. Endoscopy to check on the stomach and duodenum is possible after SASI-S, the only bypass to allow this.
How does Dr Kevin Dolan perform the SASI-S procedure?
The SASI-S procedure is a two-step process: 1) Create sleeve gastrectomy and 2) Join the bottom part of the stomach (antrum) to the distal part of the small bowel (ileum). The length of the bypass can be varied depending on the desired weight loss.
Post-Surgical Care
Following your surgery, you will spend two days in the hospital and will be administered pain-controlling medications to keep you comfortable. For the first two weeks following your surgery, you will be kept on a liquid diet. Your surgeon and dietician will give you a specific diet plan and instructions to follow after this. It is important to drink plenty of fluids throughout the day to avoid dehydration.
What are the Costs and Funding Options for SASI-S Surgery?
Costs will vary from $0 to $6000 out of pocket expenses depending on the complexity of the surgery and your health insurance status. Dr Dolan will discuss costs at your first consultation.
Medicare rebates are available for this procedure and our surgery offers payment plans for patients. Speak to our team about these fees for more information. Alternatively, see below the uninsured fee breakdown for SASI-S Surgery.
| Total Cost *Uninsured: | $20,000 |
| --- | --- |
| Hospital fee | $8000 |
| Surgeon | $6000 |
| Equipment and consumables | $3000 |
| Anaesthetist | $2000 |
| Dietitian and surgeon follow-up appointments | $1000 |
About Dr Kevin Dolan
Dr Dolan has been the Director and Head of Western Australia Laparoscopic and Obesity Surgery for patients with excess weight for over 20 years. Providing a long-term commitment to achieving and sustaining weight loss in conjunction with a team of bariatric physicians, dieticians, psychologist, exercise physiologists, nurse and patient support group.
You will meet Dr Dolan on your first visit to the clinic; he will carefully go through your medical history, explain your treatment options, and ensure you understand everything clearly.
If you are having one of our weight loss procedures, you will be closely supported by our whole team, not just around the time of your procedure, but for the months and years that follow. We will help you end the weight struggle- that's our commitment to you.
Qualifications
Bachelor of Science (BSc) St Andrews University 1988
Bachelor of Medicine, Bachelor of Surgery (MB ChB) University of Manchester 1991
Fellow of the Royal College of Physicians and Surgeons of Glasgow (FRCPS) 1995
Fellow of the Royal College of Surgeons of Edinburgh (FRCS) 1995
Doctor of Medicine (MD) University of Manchester 1999
Intercollegiate Subspecialty Examination (FRCS, Upper GI) 2001
Fellow of the Royal Australasian College of Surgeons (FRACS) 2004
Download the guide
All the information you need about SASI-S surgery has been compiled into a FREE digital (and printable) guide – get yours today!